I MSX meeting in Madrid:
It was in 14th of 1995 May, it was in the cultural centre called Fernando de los Rios, at 10:30, the next groups were present: Majara Soft; New Horizont MSX; MDS Lehenak; Padial Hardware; Pazos Ltd.; and of course MSX Power Replay.
The meeting was so good, forgetting the visitors number, only 26 visitors, we presented everthing in the exposition system, face to the people and without stands. We had a good MSX equipment, two Turbo-Rīs, one MSX-2 and a 80W music system, and a 28" monitor in the main table.
In the start we showed the current MSX situation, the major part of visitors had never been in another MSX meeting and the did not know about MSX system status, we told about the neccesary collaboration and assistance to an MSX fair in the centre of Spain. Once we present the new MSX fair in Madrid we load different demos like Last Dimension, Lazy Bones & Metal Limit, Shrines of Enigma...and disks from Brazil, Fast Way and diskmagazines and a new brazilian magazine called MSX-Viper.
After that, Paco Molla showed a new spanish MSX magazine: MSX Spirit with included disk. He surprised us with a new flash for the MSX, the Moonsound cartridge, after a little explanation about the features and possibilities, he showed the Beta versions of Moonblaster OPL4, with only five wave channels and 18 FM, it surprised us with the great quality in sound and stereo sensations.
--------------------------------------.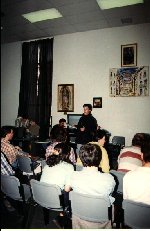 ------------------------------------------------------------------------------
MDS Lehenak appeared with a good exposition regarding in the Basque Country MSX situation, they showed the Lehenak Disk#3 and MSX Lehenak Magazine 5, very good both publications, the sold old numbers of the same magazine.
Manuel Pazos could show us great translations to spanish from the best japaneese games (YS II, YS III, Tower of Gazzel and SD-Snatcher.), he told us about future translations, as the translation of Solid Snake, he presented a new music disk from Illusion City and he give to our eyes a great project, a game similar to Sonic, with scroll routines very well programmed and very fast.
Leonardo Padial came full of products, the just made eight slotexpander with high quality cables, he showed a new 20 Mhz kit being developed for MSX-2, with 1 Mb Ram expansions in a new version. He explain everything to the people with many examples to understand easily, he convinved us to expand our computers.
Julio Velasco showed the SCSI harddisk in TR with speeds up to 300 Kb/s, very strange for the people to see a harddisk in a MSX computer, he presented a new creation, a second diskdrive in the Turbo-R.
Rafael Corrales told about MSX Power Replay, trying to get more collaborators and users in the database, he told about the neccesity of buy MSX products and magazines. He showed a new demo called Replay Demo, free for the visitors. Manuel Varela, another club member presente Arma Mortal and the new soft project, a good RPG game called El Poder Oscuro, with great graphics.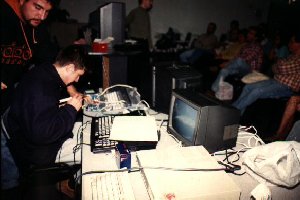 Luckly in the afternoon we could see the new VDP, GFX9000 in colour thanks to a Philips monitor, we could see good BASIC demos, pictures, scrolls, VDP modes and scaling, we got very surprise, Ray Tracking completed the good demostration, to show the compatibility we load El Poder Oscuro, everything was right but five times faster. We speak about a possible MSX-3, developed in Madrid and we told about the ULTIMA magazine and the new MSX section.
So it was a good meeting, very interesting and full of news, good organization and little visitors, everybody went out very happy and waiting for another meeting.

This is the start, we will have to walk a long way
to make true the "MSX Still Alive".