IV MSX Fair in Madrid:
Before one year respect the last MSX fair, this edition comes, the fouth edition of the MSX fair in Madrid, MadriSX┤98, it is good to tell that this fair was an evolution for the Madrid fair because for first time in Spain an MSX fair agglutinate to MSX groups and visitors from all the spanish autonomous comunities. The number of visitors was good, 87 visitors and the MSX groups with stand in Madrid was very good, with a great organization and group presentations.

The expositors were the next: MSX Power Replay, Second Foundation, Majara Soft and Padial Hardware (from Madrid). Asociaciˇn amigos del MSX and MSX-Men (from Catalu˝a). MSX Eternal (Murcia). Club Mesxes (Baleares). Analogy (Cantabria). Hnostar (Galicia). Trunks (Navarra). Cybertouch (Valencia). Đaca soft (Andalucia). And more users from Castilla y Leon or Castilla la Mancha, and Madrid too.
In this edition we had a big room, with enough space to all the stands and an exposition zone.
Let us go to tell about the fair, as last editions we had a control table, with the same price (500 pts) and free stands. When you enter you can see the organization stand, a little stand with many things and a visible MMSX project, a PC case with a MSX motherboard connected to a slotexpander (32 bits) and the PC Keyboard interface, with 1 Mb RAM, harddisk, and a PC diskdrive, so you do not need old MSX cases. Second Foundation had different new MSX CD┤s with special discounts, Xtory I and II, Snatcher Battle Selection, Falcom CD collection or the great Hintel Animate, this three CD┤s are PowerCD┤s, with games and audio tracks or good manga films (Hintel). We had new Philips NMS8245 MSX-2 with a incresible cost: ONLY 6000 pts, in few hours we sold out every MSX computers, we could present the new Nice Mouse controller for PC mice.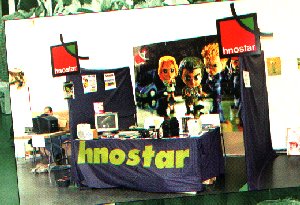 The next stand had two MSX groups, Majara, they took nothing for our fair at least Analogy came with the final version of Sony, and a good game called Head Hunter and a great promo from the next Analogy game: Puddle Land, similar to the Bubble Bobble and Quinpl with more options, more weapons and more enteraiment. Cybertouch showed a neew demo version from the KPI Ball game, a Pang version well adappted to the MSX. Armando, a member of Cybertouch presented new commands for DOS2, DDIR, it is a special DIR similar to 4DOS dir.
Hnostar installed the best stand I have never seen in another fairs, with more than 40 Kg of weight in posters, table...it was the first time that Hnostar came to any MSX fair, and how they cane!!!, with a great SD-Snatcher poster in full colour, the club logo and the stand had many MSX news, for first time in an MSX meeting the Video 9000 was present in the final version, they showed it with a GFX9000 and a Sony videocamera, we could see the incredible quality and speed capturing frames, people thought many things like that they are seeing a normal TV. They showed a new IDE version with no BIOS so they could not sell it (bad detail Henrik...). They had software from Sunrise: Arranger V, Alto, Unreal World 2, Jungle Symphonies, Rythm, Techno Trance, Heaven&Hell, Math Maniac...there were ROM┤s with PowerBasic for GFX9000 (MSX-2 version), the new music editor Oracle of Fuzzy Logic, the final version of Moonlight Saga, a great RPG game for Turbo-R presented in the last Madrid fair. They had Energy from MSX and many MSX magazines: MSX World Magazine (Brazil), MSX Fun (Swiss), Freesoft and ICM (Italy), MCCM and XSW (Holland), and diskmagazines: FutureDisk, MGF...there were cartridge box, DOS2; RS232, chips for see the MSX logo in 2+ expanded MSX and the gave free products to random visitors. And of course, they presented their MSX magazine Hnostar.
In a double stand with two tables there were good groups, Club Mesxes with a just printed magazine, the Mesxes number 11 and a big pages number, delayed number of that magazine and the original documentation disk for MSX-2 called MSX-2 Technical Handbook, sold out very soon. Just close to Mesxes we could find to AAM and MSX-Men with the last Eurolink, the CD "Megabytes", Erux, Bomberman 2, Notos, Amateurism amd the game from Japan called Bepopout. They gave free copies of Pikademo, a joke diskmagazine. We could see Pentaro Oddisey copies. AAM represented to Culla, showing his internal PC modem interface called ACCNET, there were SCSI harddisks (5000 pts) and the MCCM CD┤s.

MSX Eternal with many activities stopped came with only one member, they sold classic MSX CD compilations at 500 pts, public domain disks with many tools: FMSX 1.6, games. Good music tapes from YS, Konami... and a good program to pay the retribution to spanish goverment (taxes). They had Cartagena 97 vests and they advertised the next MSX party in Cartagena.
Padial and family presented the comercial version of the great 32 bits slotexpander, the MMSX base, with the Z380 project and many Z380 books to explain how MMSX works, 4 Mb and 1 Mb expansions, eprom┤s programmers and the SCSI interface. So we can understan a little what is a MMSX, a new computer concept.
Đaca Soft gave andalucian style to the fair, with a MIDI keyboard the made sounds and musics, and interesting projects, Doki Doki, and a Worms style game called Fire in the Sky, with FM music and a good graphics not finished, it is sad. They sold good Martos MSX CD┤s with a very unexpensive price and Trunks installed SCC buttons to disconnect it and use it in disk Konami games without damage danger on your MSX, good idea.
Finally as another meetings, the second hand stand, where you could find everything, MSX computers (F900, Turbo-R...), MSX printers, diskdrives, scanners, Aladin, original old software...
Without doubts the best MSX fair in Madrid till now, we hope to repeat it very soon, we will inform you in this web, we wish more visitors and news, this is important to continue giving life to our loved MSX standard, see you in the next MSX meeting.