SECOND MSX FAIR IN MADRID:
Another time and one year after the las edition, in Madrid was organized a new MSX meeting, in this event we had a good success in the number of visitors (67) and groups: MSX Power Replay, Calavera Feliz BBS, Padial Hardware, MDS Lehenak, Traposoft, Asociación Amigos del MSX, Majar Soft, Pazos Ltd, Msx Eternl and Club Mesxes. The meeting was in 24th of 1996 February in the Fernando de los Rios cultural centre.
MSX fair was converted to the stands system, so visitors could visit the stand they want to see, there were no official presentations, but there were good Sonyc and Poder Oscuro demonstrations.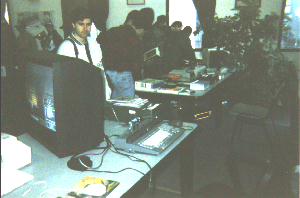 Following the stands we will start with MSX Eternal, this is the first time they came to Madrid, they brought a MSX CD with games developed in Madrid with the Martos collaboration, with many japaneese games and they could present the new number of the MSX Spirit Magazine with a new look. They showed the included disks with many games and music compilations tapes.
New Horizont was supposed to come but finally the could not come, just close to the New Horizont stand we could see MDS Lehenak stand with the complete home (!!), three MSX computers of diverse generations, three monitors and a good demo that uses the three computers at the same time, called Datamax, not only thism they load full motion videos in simple floppy disks made to MSX with MSX-Audio by NOP, very good, they show a SCSI harddisks at high speed (330 Kb/s), they brought several demos of this club and the last MSX Lehenak magazine, the number 6 and Lehenak Disk 4, they showed a new scanner interface and digitized to people with one 8280.
In the next stand we see a double stand, Mesxes, AAM and Traposoft, the presented a new for the MSX, one SCSI CD-Rom in MSX, with videos, music files and pictures (including PCD files). Within SCSI CD the ZIP drive, the new mass storage system. They showed ZIP tools and pictures. They sold different demos from Compjoetania (Last Dimension, Noise Disk...) and diverse translations made by Oasis (YS, Fray, Xak...), in english version. They have Telebasic disks for TR and a promo game: Sir Dan by Daniel Zorita. We could see the Unknow Reality demo and tips books from good japanesee RPG games and the sold the Novaxis SCSI.

The Mesxes club had the last Mesxes MSX magazine, ready for the fair and with 68 pages in the number six, we can suscribe to Mesxes and get Lemon promo, poster and a year book.
In our stand we had a complete collection of MSX machines, with the TR and a big screen we showed the GFX9000 and Moonsound, several demos, FLI´s and the Sunrise Magazine 17, the Paint 9000 was presented with the V9990 and we test it printing pages in an ink jet printer, we aalso test the Aladin program. With the OPL4 we could clear its possibilites with the new game from Umax called Pumpkin Adventure III, with a good musics. A very good game in the graphic hand and music. We had MSX magazines (ULTIMA with MSX article, MSX-fan...). We sold different club products, SC12 Visual, MSX Paint IV in spanish, Formmaker and the MSX A-Z book. We show the MSX working in Internet, and the modem with MSX, with several connections to a BBS. We have Z380 documents.
Hnostar showed old numbers of their magazine and advertised about the inminent new Hnostar magazine with a big format. We sold their numbers, Covox and the just presented program MIPS.

Pazos and Majara soft were present to show different demos, Majara with the Poder Oscuro promo. Pazos with a new Sonic demo, from the Compass assembler he showed us many new demos of Sonic, very good, and the people were surprised with the speed and quality. He sold spanish translations of YS, SD Snatcher and Rune Master III.
Padial with his family showed the 20 Mhz kit, 1 Mb RAM expansions, the last eight slotexpander, Padial presented the new SCSI interface with high speed and internal DOS2 system.
We have a new second hand stand with an original SD Snatcher, NTSC/PAL converter, SCSI interfaces, MSX-2, LOGO, MSX books, MSX tapes...
So this MSX fair was good and it had a great level of organization, giving a national character to this fair.