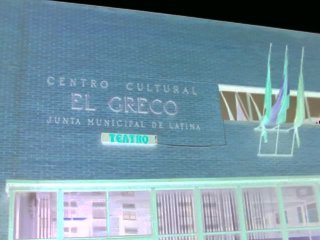 MadriSX & Retro -the Retrocomputing fair of Madrid- makes its XIII edition, and MSX Power Replay and this is the third edition with the "retro" zone. We inaugurate a new era, with the full collaboration of the Madrid city hall, we will can offer you free entrance.
We will enjoy with the last year´s location: the cultural centre "El Greco", a nice meeting place located in a quiet zone of the big city of Madrid, close to the green Madrid (Casa de Campo park), in a perfect comunicated enviroment, with public and private transportation. We will enjoy with the colaboration of the big computer services company called Instrumentación y Componentes. We hope to situate MadriSX & Retro in an important place inside of the growing world of the retrocomputing, with more and more fans.
This fair will be celebrated inside of a big meeting room of the refered cultural centre, a big room ampliated to 250 m2 fully equiped. The visitor will can meet and know more about news and projects for the MSX system and other vintage platforms. As a great new we will enjoy the presence of MadriDC / DC Iberia group, specialized on Dreamcast and vintage machines . We open our doors to the presence of classical consoles, until now they was not so present in M&R, MadriDC area will organize activities and conferences. And as an absolute new we have an official radio channel "live in MadriSX & Retro".
This is because MadriSX & Retro is a fair that must be visited, the effort of this club and another ones that are working for these systems, must receive your support with your visit: the main part of the fair. We will prepare a "retrocomputing" zone, where you will can know more about old computing platforms trough expert collectors that are working for maintain old computers like MSX.
Remember: MadriSX & Retro ´2006 - 4th of March, Saturday
Organizer





Sponsors and colaboration


CONTACT WITH US:
Foreign users are very important for us, so if you want to visit MadriSX fair, you will receive a special help, ask us all that you need to come here...
Club MSX Power Replay
Almazán, 31, 1ºD
28011 Madrid

replay@wanadoo.es
http://replay.msx.org
ICQ: 34051098
2:341/66.17