MadriSX´2000
7th meeting
A new Madrid MSX fair edition in the same location (Fernando de los Rios cultural centre) were last 4th of March, the first spanish MSX fair of Madrid in 2000 year. The main atraction of this meeting was the comercial version of the Z380 board, the meeting was good, but once time we missed many MSX users of Madrid and the visitors number was too small with only 58 visitors.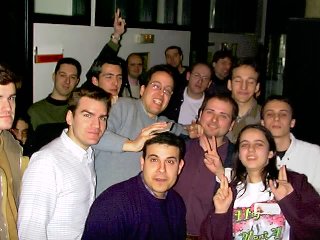 At 10:30 the meeting started, althought like last editions some people were together since 6 am, because there were a "little MSX meeting" in the bus station, and we know that everything is a part of the MSX day, the MSX is a cause of friendship.
If we look to the fair, we will describe the stands:
PCM: Pedro Cruz showed his complete MSX-2 8280 with a internal amplifier connected to the CD-Rom, he digitized to a big part of the visitors.
MSX Dreams: Jose Angel Morente sold some new Legacy 3.0 CDs, every of them were sold out because the contents of this CD are really wonderful with some MSX software jewels.
VAJ Club: Véronica, Andoni and Antonio came for representing their club, we could see Sega guns converted to MSX, old MSX Lehenak magazines and a slot cable extension.
A.A.M & Club Mesxes: We were happy for seeing to Jose Maria Alonso after some ausences in spanish MSX fairs, and we receive the visit of Sergio Guerrero and the surprise: Pol Roca, a great japanese speaker. Nestor (Konamiman) did not fail and he sold dozens of old MeSXES magazines, the new Nestor Kit and a great CD audio with some MIDI themes, nostalgia in various audio tracks.
Juan José Ferres of Gunkan sold in the same stand a complete Japanese learning course CD for begginers, it was a surprise to see the excellent japanese skill of many visitors (we received the visit of a japanese girl).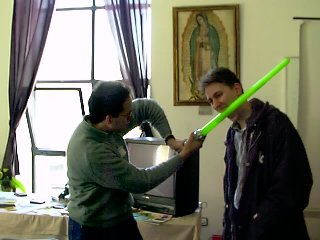 MOAI Tech: They had ready a big travel to Madrid and Manuel Dopico & Company of this group came to surprising us, with a Star Wars sword. They sold the new Moai#4 magazine in A4 format, the Moondop disk and a new erotic game called Nash, they showed something of the next Moai game, it is similar to the Knightmare with an excellent vertical scroll.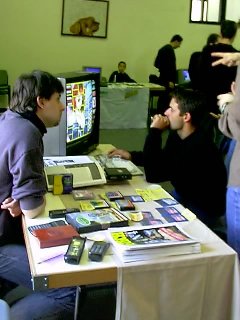 LP Electronics: It is enough to tell that he sold the Z380 board, Leonardo informed about the 8 bits production, he will abandon it (except big orders), and he presented the new slotexpander called 4 Evolucion, with this new slotexpander generation we will enjoy new features in the MSX like real 32 bits, 4 Mb slots, linear...This slotexpanders are oriented to the Z380 system.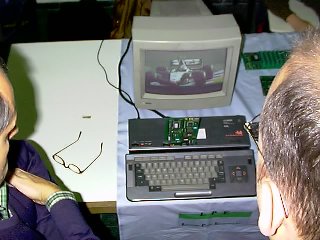 MSX Power Replay: Ivi and Rafa Corrales sold many products, in a little table there were a PC computer for showing the new CD ICM Magazine, the firs magazine in this electronic format, with a good contents: magazines, pictures, MSX software, videos and musics, documents and information about MSX system.
We also had Hnostar products like the new Arranger 4 music disk and old magazines. We sold printers, japanese cartridges (Pennant II Race, USAS...), disks (Pentaro Oddisey, Future Disk...) and MSX tapes.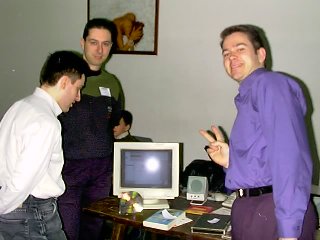 There also were second hand products: computers, original games of Philips and Sony, a Multimiller cartridge...
Leonardo did a exposition of the new slotexpander at midday using some projections, he explained the new 32 bits standard and the new hardware evaluation system, this new evaluation system will be a work of all the MSX users, they will test the new hardware products and he will can win the tested product in the fairs.
There were a draw, we gave some MSX tapes, a Nash disk, a ICM CD Magazine, one MSX Lehenak magazine and the Nestor Kit.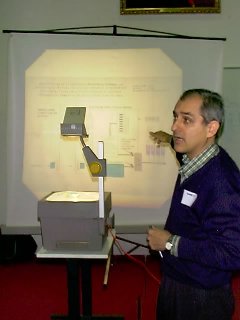 The meeting was the entire day in a friendly ambient, we ate in the same cultural centre and we have enough time to tell about a big amount of subjects. Leonardo and Daniel Zorita showed during the fair the Z380 board, giving a complete information to all the programmers, they are the keyword of the new MMSX system. Majara soft was in the meeting, but the Poder Oscuro looks a neverending game and maybe in the next century...
We missed to a lot of people and we hope it was caused by the big number of MSX fairs in a short time, the next MSX meeting will be in one year.
We had a good time and after the meeting we went to a japanese restaurant, it is curious because the tradition is in a chinese restaurant, but the MSX system is japanese, so it was a good decision to go to this kind of restaurant, cool!.
See you in the next MSX fair of Madrid!, and thanks a lot to my friends of VAJ club, they gave me a "txapela" for my birthday. (Thanks also to ICM for the ICM CD Magazine).