MadriSX´2001
Last 10th of March there was the eight edition of MadriSX, the MSX fair in Madrid, the antecedents of this fair was not so good cause the MSX activity of Madrid city was under minimum, LP Electronics had break his relations with us due personal reasons and in general all the things was not in the right way, specially when our suspects were confirmed and we check that we were suffering a swindle made by Rafael Morales, M.E.I. manager (only spanish explanation), only 18 days before the fair date we knew that we hadn´t room for celebrate MadriSX, althought we started to solve this very soon renting a good room in the same Chamartín hotel, the rumours run faster than us and some pages like aamsx.org published the MadriSX cancelation, fortunately they published a fast correction about this.
With the room rented by our money and with a big promotion of the fair made in colaboration with Moai Tech, we only need to wait for the fair day and see the results of this great confusion.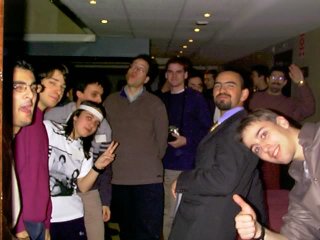 The fair sarted punctual at 10,30. The firs visitors.
Acording to the last visitors esteems (not too good) we estimated that the best price could be 700 pts, and for standholders 1000 pts for each table, the destiny was really cruel and a lot of people felt down of the visitors list at last time cause of several reasons, and if the meeting is valuated using only the visitors number, it would be better to abandon the MadriSX fair celebrations, the visitors from Madrid were only 14 (and this is the club for MSX users of Madrid ...) , the visitors number from another regions was great and from Catalonia we received 14 people too (but there is a "little" difference, they must travel more than 600 km for coming here), we could enjoy with excelent users like you can see in the photos.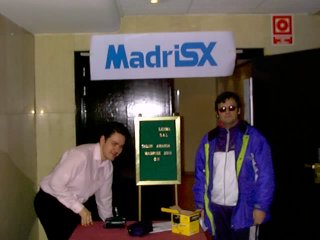 MSX fair entrance.
The fair room opened its doors at 8,30, in that moment some people forwarded to the organization and members of AAM, Boixos and Mesxes had almost ready their stand. The first impresion of the room was good, with a "cheap" price of 64.200 pts (386 euros) the Husa Chamartín hotel has gotten us a 110 m2 room with enough surface for the received visitors, we are graceful with the hotel because they made us a nice discount (the official price of the room was 462 euros + taxes). Another visible advantage of celebrating this fair in a hotel is the service, everything was prepared, cleaned and sorted, the hotel lent us all the neccesary services of the fair.
The room was finished at 10 am, and at 10,30 we started the fair, there were only 25 people then, the number of novelties and standholders was low, there were only 6 MSX standholders, using 4 tables, it is without doubts the worst numbers of all the meetings of Madrid in fair format. Apart of this some collectors came to support the fair and they installed two tables with all kind of curious computers. We put a second hand stand.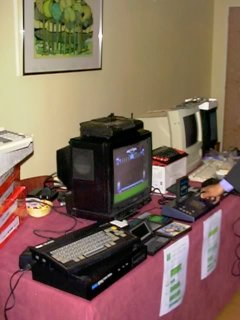 Collectors stand by Miguel Durán.
We will start to see the stands from the room final, the first stand was the second hand one, with one MSX-2 8245, some japanese cartridges of Martos, other Konami cartridges and MSX tapes, books and a SCSI CD writer.
Very near there were two collectors stands, one of Miguel Durán, he showed a big part of his collection and this table was the enterainment of all the visitors, apart from some MSX like SVI 738 X´press with double side diskdrive, Miguel had a lot of machines like a Multimega of Sega, the MB Vectrex, we could see a curious computer/console of Sega, some strange machines like a little game head held with a retroprojector over an eye glass. MSX related stuff was the not knowed MSX-SVI cartridge adaptator that transforms SVI 3x8 machines into real MSX.
In front of this table we had the Vengador stand, a private collector knowed in the #museo8bits IRC Hispano channel, the showed us some Amiga demos and a "portable" computer of IBM, and we could admire the Tromax jewel, a Dragon MSX, a really strange computer spanish 100%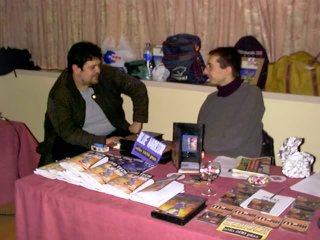 Moai Tech talking.
Close to the Vengador table we could find to our friends of Moai, he sold their new magazine Moai 7, with a good contents and 56 pages with just prepared matherial, apart from this Manuel Dopico came with a new music disk for Moonsound, the third Moondop edition with a new themes full of quality (lucky persons the owners of the OPL4). The sold copies of Blue Warrior and old Moai Magazines. In this table there were interesting chats during the lunch hour, and it was the prefered resting area for most of the visitors. We also could buy many Konami RCs with different prices.
In the opposite we find the VAJ stand, it was a funny place because they runned the great games of Saver, like Hajiku and Tataku Mani, they offered you the guitar and mixer table made by them. And Veronica was a really experienced Tataku/Hajiku user, not like Rafael Corrales, at least he could get some points for first time. We also could enjoy with great EVAs and Kaotika game, it was the best secta table (...no translation...). A guy of Veronica and Andoni bought a big IBM AS/400 in Madrid for translating it to Bilbao.
Here we could buy MSX Lehenak magazines, and little MSX expansions like the slot enlarger and the minislot expander for 8235/45 (third slot).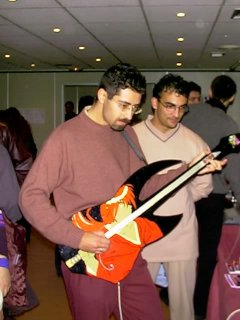 Martos don´t make only conversions ;-)
Within VAJ Club stand we had the table of Nestor Soriano (Club Mesxes) with dozens of SD Mesxes magazines waiting for an owner, Nestorthings (Nestorhair session 3,4 euros) and the newest thing: the Command 2.41 of CPU (yes, we know, it was presented in Tilburg 97), a great new command interpreter for DOS2 with some new features like alias, extended commands (for changing CPU, color...) and more powerful batch files commands. In the left table side we could see to Debugger (Manu) representing to Matra, he sold the knowed games of Matra like Sex Bomb Bunny, Arkanoah and Moskow 2024, and Syntax Magazine & MSXemat.
The greatest new was the presentation of the secon Calígula made specially for MadriSX, it was a new Tetris version called Don´t Cock It Up in a collection edition, it was limited to 24 units, sold out inmediatly.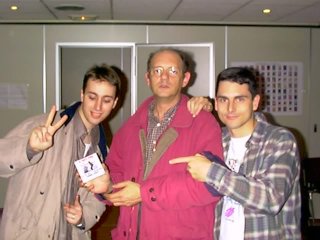 Roberto Herranz, the 24th Don´t Cock It Up buyer.
Just in front of this stand of AAM/Mesxes/Matra...we had the organization stand, MSX Power Replay, where Angel Carmona and Xavi presented a new MSX Covers edition, the famous covers collection, in this new version the main differences were in the CD size (80 min) and the contents, if it was a very complete collection, now we can consider it as the most complete collection never made. We coul buy Destraler multimedia CD and some canvas and paintings of MSX covers in the best quality format. Rafa Corrales represented to Hnostar and he sold some magazines, KPI Ball of Boh Ken and some new generation ATA-IDE cartridges, some of them with RS232 and with 512 Kb of flashrom.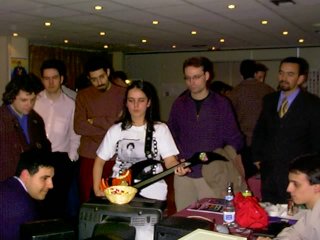 Verónica showing its guitar experience.
Definitevely, it was a really interesting meeting, but for the organization it was very disappointing, because there were incredible ausences of MSX users from Madrid, for first time Majara Soft didn´t come, same as LP Electronics (but we know the reason of this ausence) who organized a developer meeting one week before MadriSX where there were some people who could not come to MadriSX, 2ndF did not come, really sad because they made great MSX CDs. And another inconditional users like Jose Maria Pachecho also did not come.
We received to 58 visitors, same as in the last MadriSX edition, we could see a lot of new faces, like some users from Extremadura and one users from Canary Islands who bought the MSX-2 8245 of the second hand stand. It´s sad because we can never see all the users together. The price of the room could be payed with some troubles...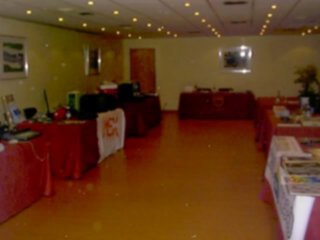 View of the room.
Finally we only can confide that this was bad luck, a temporal situation, but our club, made for MSX users of Madrid feels that there is no reason to continue, we hope to celebrate the tenth edition of this meeting, we will see you in the same location of all the years, the Fernando de los Rios cultural centre, the place where we never should go out.
Greets to:
MATRA , MadriSX sponsor.
Hotel Husa Chamartín , for the support and help.
Hnostar , for the support and banners.
Moai , for the meeting advertisements.
Arroba , for the meeting info and support.
Angel Carmona , for his help.
And to all the visitors, thousands of greets:
Nestor Soriano, Manu (Debugger), Sergio Guerrero, Francisco Álvarez, Verónica Velasco, Andoni Velasco (and their friend), Miguel Durán (and wife), Vengador, Regel, David Fernández, David Casanovas, Manuel Dopico, Roberto García, Iván Priego, Roberto Vargas, Angel, Xavi, Juan Manuel, the Canary Island boy (surprise), three of Extremadura (nice to meet you), two friends of Roberto Vargas, Bernat, Iván Isidro, Manolo, Gustavo, Raul Fernández, Roberto Herranz (wife and daughters), Francisco Martos, Miguel Angel, Ignacio Piedrabuena, Luis Testón, Justo Pérez, Amando Velázquez, J.Luis Lerma, Pedro Cruz, José Moreno, Juanjo (la intención es lo que cuenta), a Angela (one kiss for you) y her mother, Santiago Herrero, Fernando López (and cousin)...an more that I forgot, thanks from Rafa.